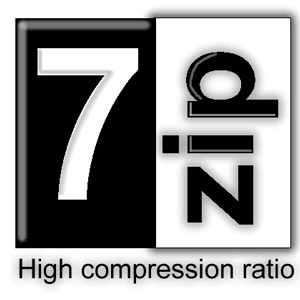 For Windows
7-Zip.org
★★★★★
7-Zip is a high-performance open-source file archiver and compression utility used to package and compress files into archives, which can then be distributed, shared, or stored more efficiently.
It supports 7z and other archive formats, including ZIP, CAB, RAR, ARJ, GZIP, BZIP2, TAR, CPIO, RPM, and DEB. Its efficient general-purpose compression algorithm, known as 7z, offers superior compression rates of up to 7 times better than ZIP.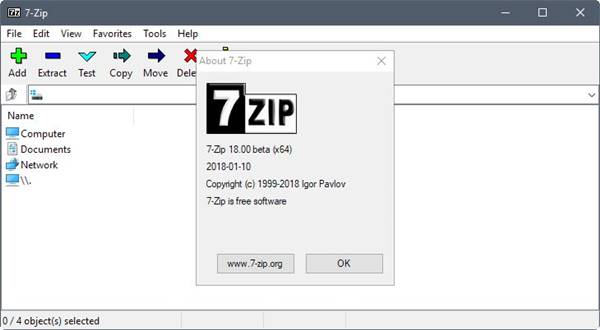 It is available for Windows, Mac OS X, Linux, and BSD. 7-Zip also includes command line versions for automation and integration with other programs.
7-Zip's simple user interface makes it easy to navigate and use even for beginners, while its advanced options make it suitable for more experienced users who need greater control over the process.
7-Zip is the perfect solution for anyone looking for a reliable way to safeguard their data. Easy to use with high compression rates, a wide range of supported file formats, and advanced options that give users greater control over the process, 7-Zip is one of the best archivers available on the market today.
Features of 7-Zip
7-Zip is a powerful and reliable file archiver that offers users a wide range of features and options.
High Compression Rates
7-Zip offers extremely high compression rates for 7z archives, making it an ideal choice when you need to store a large amount of data in as small a space as possible. 7-Zip also supports ZIP and other popular archive formats, so it's easy to switch back and forth from 7z if needed. 7-Zip's 7z format utilizes LZMA algorithms with the default dictionary size set to 32 MB, which allows 7-Zip to offer up to 10% better compression than other popular archivers such as WinRAR or WinZIP. 7-Zip also offers optional encryption, allowing users to protect their data by adding an extra layer of security.
Easy User Interface
7-Zip features a simple and intuitive user interface that makes it easy to navigate even if you have never used file compression software before. Its main window displays all the major functions, including options for creating and extracting archives, as well as advanced settings for more experienced users. 7-Zip can also be integrated into Windows Explorer, giving users quick access to its powerful array of features without having to open the main program window.
Wide Range of Formats Supported
In addition to 7z archives, 7-Zip also supports several other popular archive formats, such as ZIP, GZIP, BZIP2, and TAR. This makes it easy for users who want the best compression rates possible from 7z but may need compatibility with other systems that don't support 7z files. The wide range of supported formats also ensures that no matter what type of data is being compressed, 7-Zip can help make sure it is stored securely and efficiently.
Advanced Settings
For those who require more control over their archiving process, 7-Zip offers several advanced settings. These allow users to customize their compression levels or choose specific files or folders they want to be included in their archives. Users can also adjust settings related to encryption, file attributes, or NTFS timestamps depending on their needs and preferences.
Free Download & Use
The best part about 7-Zip is that it is free to download and use – there are no hidden costs associated with using this powerful software. This makes 7-Zip an ideal choice for anyone looking for an efficient way to store their data securely without needing any special licenses or subscriptions. 7-Zip also makes it easy to share archives with others, as 7z files can be opened by the most popular archivers.
Technical Details
| | |
| --- | --- |
| Software Name | 7-Zip |
| Developer | 7-Zip.org |
| Category | Compression and Backup |
| Platform | Windows 32-bit & 64-bit |
| Operating System | Windows 11, Windows 10, Windows 7 |
| Size | 1.23 |
| Rating | 9.5 |
| Language | English |